Join now
Tgirls Hookup Review
88/100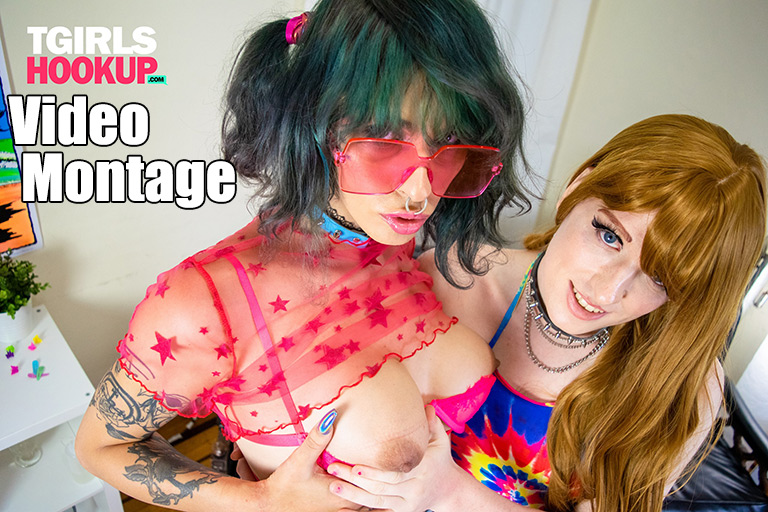 EXTREME HARDCORE AND SOLO TGIRLS
Video content
166+

17 Minutes

4K, HD

Yes
Photos from Tgirls Hookup
Site introduction
Tgirls Hookup is an edgy hardcore and solo TS site looking to push past the regular mainstream vanilla porn you are probably used to on other adult sites. Featuring mostly American Tgirls that are not shy about getting down and dirty in rough and kinky sexual play. The site is rather new but has a partnership with Grooby Productions so it is probably going to be around for years to come.
Tgirls Hookup is certainly more graphic than you might be used to and the terms they use to describe the scenes are certainly quite dirty. All the models that shoot in the site agreed to these sexual charged terms and realize that this is fantasy play but at another level of wildness. Some fans will absolutely love this site while others might be more comfortable in some of the others sites that just feature the model on the bed doing her normal masturbation routine.
If you are looking for more in your sexual viewing with things like domination, toys, kink, submission, obeying, sex machines, cum play, rough hardcore and so forth than this site might be perfect for your tastes. Just remember it is fantasy role-play and everything is between consenting adults.
The Videos
Tgirls Hookups has some amazing videos that you can download to your computer in 4K format or if you wish lower quality video sizes for those that might have a slow connection or limited space on their computer. You also have the option to view the scene using the streaming player directly in the member area if you prefer to just watch the scene online.
The videos are of high quality with amazing models dressed up in all sorts of sexy outfits, ready to get down and dirty. Sweet camera angles, good close-ups of the action, strong set lighting and clear sound for each scene. You can tell that the camera person really wants to deliver a strong product to the fans that end up joining the site to see these wild girls have a great time behind the lens.
The videos include but are not limited to the following types of content:
Lesbian Action
Bareback Sex
Cumshots, Facials, Cum Play
Sexy Outfits
Tattoos
Sex Machines, Toys
Dildos
Verbal Play
Domination, Submission
Superstars and Newcomers
Behind the Scenes Videos
Blowjobs
Rimming
Much More
The Photos
Many of the main video scenes also have a photo set that goes along with that scene. The number of images per scene however varies quite a lot. Some scenes have as little as 10 images while others are well past 50 images. The videos are certainly the main focus of Tgirls Hookup but a lot of the images are quite enjoyable as well but certainly not the main aspect of this site.
You can download all the images per scene via zip file directly to your computer. You also can click the thumbnails inside of the member's area or use the slideshow feature. Even some of the behind the scenes videos have photos. Often displays the personalities of the models before they get deep into the scene which can be fun.
Pros
Edgy American Tgirl Site
Updates Twice a Week
Exclusive Never Seen Before Content
Model Database
Mobile Friendly
High Quality Videos
Good Opening Join Price
Social Media Contact Info of Some Models
Cons
Very New Site - Needs Time To Grow
Search Features Limited
Special Features
Rate Content
Leave Comments
Store Favorite Scenes For Easy Access
Bonus Videos Section From Other Grooby Sites
Forum
Summary
Tgirls Hookup is not your typical vanilla porn tgirl site. The site steps out of the box to deliver a more edgy, rough and kinky fantasy role-play with amazing consenting models. This site might be a little too much for some to handle and that is the point. Tgirls Hookup wants to break out of the mold of a model doing nothing but stripping out of her outfit and playing with her cock. Do not get me wrong, that can be hot as well but Tgirls Hookup is all about pushing those boundaries to another level. The scenes for the most part will be more graphic and also the descriptions are also quiite wild to read.
Please take note that Tgirls Hookup is a very new site so you can't expect years of content at this point. However, the site is updating twice a week with new video scenes and you also get bonus Grooby Videos. Tgirl Reviews will score the site favorably sine it is so new but will review the site again in a few months to make sure that the content is still continuing on a regular basis and we have faith that it will.
Feel free to ask any questions, leave comments or just say hello!
Thank You from the Tgirls Hookup Review.