Join now
Site introduction
I was very excited to review Tara Emory's personal porn site. She calls herself a fetish transsexual pinup and her unique looks really make her stand out from the rest of the crowd. She has an amazing sexual imagination and her artwork, outfits, photo and video sets are absolutely spectacular. She has a huge collection of content created over the last 10 years and she continues to look hotter with each new update.

This is not your typical solo site; she really delivers something special with her content. She has a wicked ability to come up with these elaborate ideas and make them come alive on your computer. She is also quite beautiful with her lovely face, milky skin and quite an impressive surprise that she takes out of her panties. I love Tara's creative ideas and if you are looking for something beyond your typical porn content then this is it. From what I understand is she actually creates most of these sets and costumes herself which is quite amazing.
The Videos
Tara TS has a very nice collection of videos she has created over the last several years. Most of the content is solo action with her interacting with her props and incredible movie sets. She loves to put dildos and toys in her beautiful ass and that shecock has a very impressive cumshot. The videos can be watched online or downloaded in MOV of Mp4 formats. The quality of the videos is not as strong as the photos; they are not bad but would look so much better with a higher quality camera.

The videos are about 8 minutes on average and seeing Tara in these stunning outfits and sets is really something special. She has slowed down a bit with updates recently but you get access to a pretty big database of content when you join.

The videos include but are not limited to the following types of content:
Amazing Outfits
Amazing Production Sets
Stroking Cock
Dildos and Toys
Roleplay
Big Cumshots
Anal Fun
Stripping
Teasing
Hardcore (Though Most Movies Are Solo Action)
Fetish
Much More
The Photos
Just by looking at the sample images in this review you can really see just how special Tara is. Her erotic imagination combined with her artistic talent takes this sexy transsexual to a whole new level of excitement. She puts a lot of thought into her sets and delivers something completely amazing with each new update. Browsing through her many sets I did not notice anything being used twice, she comes up with something new each time!
She cleverly names each of her sets to add to the fun. Such titles as Cream Hearts or Cooking with Cum just help her personality shine through. The sets usually have about 150 images on average and are of incredible quality. You can view them online by clicking the thumbnails or using the slide show player. The thumbnails are set up in a scroll viewer, personally I like to see them on all one page but I can deal with it. You also can only download the images one at a time as there is no zip file available for the whole set.
Pros
Total Unique Shemale
Amazing Costumes And Props
Contact Info
Cons
No Full Mobile Version
Few Navigation Issues
More Videos Would Be Nice
Special Features
Tara is also a skilled artist and shares her work inside.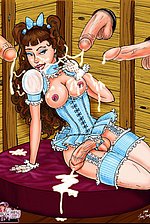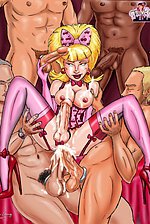 Summary
I love porn sites that offer something different and Tara Emory delivers just that. She is very beautiful, has a mind blowing wardrobe, incredible production sets and the erotic imagination to put it all together. Of course we can't forget her big surprise and mouth watering cumshots to only sweeten the deal. Yes the videos could be better in quality and there are a couple navigation issues that I would change but putting that aside she really delivers something fantastic.

I strongly recommend her site and look forward to seeing what else she blows my mind with, simply one amazing sexy transsexual superstar.

Thank You from the Tara TS Review!