Join now
Shemale Yum Review Review
90/100
Video content
5985+

12 Minutes

MP4,WMV,AVI

Yes
Photo content
658000+

100 Images

Yes

Yes
Photos from Shemale Yum Review
Site introduction
If you have never heard of Shemale Yum then you should probably consider yourself new to the tgirl Industry. This site has existed for well over 18 years and is known to many as one of the first if not the first real shemale porn site. The site consists of mostly North American Transsexuals but you will also get Tgirls from South America, Europe, Asia and pretty much everywhere in the world. The site has a combination of amateur girls trying to get into the business all the way to your professional shemale model favorites.

One aspect I really enjoy is you can watch many of the tgirl model's careers right before your eyes. See them when they were just starting out and how they transformed throughout the years. It is amazing how some of these girls change from year to year. Grooby Girls is updated on a constant basis and probably has one of the biggest collections of shemales you will find on the Internet. It is the flagship of the Grooby Empire which consists of quite a few tranny paradises. Right now the site has about 1900 models, 650 000 photos and is up to almost 6000 videos. That is a lot of content to go through and well worth the price of admission.
Grooby Girls was formally called Shemale Yum. When the site was first opened the term shemale was widely used to described these lovely girls but as the years went by the term shemale for many has become more offensive to many models so the team at Grooby decided to change the name of the site which is pretty amazing. You can check an updated version of this site over at my Grooby Girls Review. Remember joining from either review will take you to the exact same place so do not worry about going to the wrong area.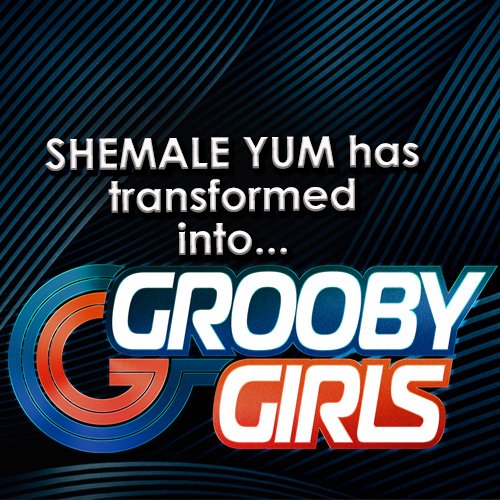 The Videos
All newer videos are now in HD MP4 movie format and you can download them in high or lower format. You also have the ability to watch the video online using their streaming player. If you are just interested in the cumshot they usually have a mini video that just features the final sticky shot. Of course the older movies on the site might not have the quality as the newer ones, it is quite obvious that videos produced 18 years ago probably are not as up to today's standards. However, most of them are still fun to watch and Grooby Girls has kept up to date throughout the years with giving you a strong video product.
Grooby Girls does not limit itself to having one video producer. There are many shooters across the world that shoots these lovely girls so you should expect different video perspectives. I enjoy this because it keeps the site fresh with new eyes shooting the content. I am sure you will find some favorites. You also have the ability to comment and rate each video set to discuss it with other fellow members. Grooby Girls has a wide range of solo and hardcore content and usually the newer videos range from about 10 to 15 minutes on average with some being much larger and some being of course a little smaller.
The videos include but not limited to the following types of content:
Stroking
Hardcore Sex
Bareback Sex (only a little)
Big Cocks
Roleplay
Lesbians
Cumshots, Facials
Amateur and Pro Pornstars
Toys and Dildos
Foot Play
Fetish
So Much More
The Photos
All the video sets also come with a photo set for you to enjoy. You can view the images online by clicking the thumbnails or download the zip file to your computer for future enjoyment. Much like the videos the quality of the newer material is much better than the content 17 years ago but saying that even the old stuff to this reviewer is pretty hot. Usually a photo set will consist on average about 100 to 150 photos. Once again you can rate and comment the set and discuss the sexy shemale with other members.
Pros
Huge Collection Of Tgirl Porn
Frequent Updates (Now Everyday)
Fresh New Faces Added Often
Cons
Some Photographers Not As Skilled As Others
Many Pro Models But Some Might Not Like The More Amateur Tgirls
Limited Model Contact Info (Improving with Twitter Accounts Added For Some Models)
Special Features
Model Database
Ratings, Comments, Forums
Bonus Video Section
Store Your Favorites
Now Full Mobile Version Included
Twitter Of Some Models Being Added Recently
Summary
One thing you can't fault Grooby Girls on is the amount of content. They have a huge database of shemales that will keep you going for a long time. As you are going through that database they are also constantly updating the site with new and fresh exclusive content. There are many extra features such as rating, comments and even a forum to chat about your favorite or not so favorite shemales. Grooby Girls is a little unique since it also has a lot of amateur shemales. This could be a con or a pro depending on your own personal tastes. Some find the amateur girls a little too amateur while others really love the new fresh babes coming into the porn scene. In any case if you are not an amateur fan then no worries as there is so many shemale pornstars to choose from.
I particular enjoy watching the careers evolve. You can see some of the Tranny Super Stars of today when they were younger and you can literally watch as they transform throughout the years with many of them. Grooby Girls is highly recommended by this reviewer and every tgirl fan should probably join it at least once to see what it is all about.
Thank you from the Grooby Girls Review.
Please feel free to share your thoughts or ask a question in our comment section.