Join now
Mallory's Feet Review
0/100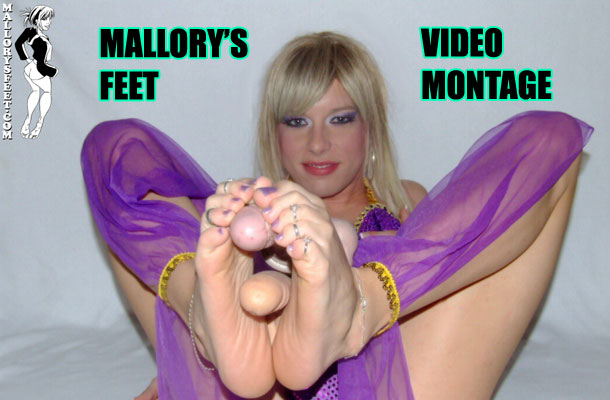 Kinky Feet Fun Click Here
Video content
75+

7 Minutes

WMV,AVI,MOV

Yes
Photos from Mallory's Feet
Site introduction
SITE CLOSED
Mallory's Feet is a site about a very cute and sexy transseuxal that has a hot foot fetish. This site is quite unique and for those that love beautiful tranny girls and have a desire to explore sexy feet it just might be a paradise for you. Now I will admit I am probably not the most qualified person to do a foot fetish review but I have an open mind and will do my best, so forgive me if I don't know all the niche terms.
Mallory's site is an amateur site as well. So don't expect some high quality production porn site with all the bells and whistles. This site I believe is very personal for her and she wants to share her desires with you. She updates the site quite frequently and enjoys doing videos more then photos and these days that is what most people enjoy the most.
UPDATE: I reached out to Mallory on July of 2015 to see if her site is updating at all. By the look of her old tour and her no response to my emails I will assume that he site has not been updated in some time, even the links to her site often lead to some odd page. I am sure all her old content is still there so perhaps a month membership to check out her past material but until I hear from her I will assume the site has not been updated in quite some time.
The Videos
The videos obviously focus mostly on her cute feet. As you see below the different types of action she likes to have fun with. She also has an incredible body which she sometimes enjoys showing with some hot stroking fun and the occasional cumshot. Not to much in the hardcore department but there are some visitors that have some fun with her in the site.
The videos are rather short usually between 5 and 7 minutes long but she does have quite a lot of them and for this type of rare content it is a pretty nice amount. The newer films can be downloaded in multiple formats from High Definiton to QuickTime to Mobile Formats. She does not stream her movies inside the site so you will either have to download the full version or wait until it buffers.
The videos included but are not limited to the following types of content:
Foot Teasing
Painting
Different Stockings, Shoes, Etc
Licking Feet
Feet In Mouth
Toys And Dildos
Cumshots
Much More
The Photos
As stated before Mallory enjoys focusing more on the videos but she does have a nice selection of photos. You can download each set to your computer via zip file. You don't get a lot of photos per set perhaps 10 to 30 images on average. One thing I hope she changes is you can't view the big photos on the site itself. You can see the thumbnails to get a preview but they do not open up into the large image, you have to download the set. Even for an amateur site this is something she should look at adding in the future.
Pros
Unique Foot Fetish Content
Summary
Mallory's Feet biggest value is her unique content. There is not a lot of transsexual foot fetish content out there, especially a whole site devoted to it. I am unsure if she still updates as requests to review the site again by email have not been answered and her tour looks quite old, my guess is she is not updating but will update the review if I find otherwise. Yes the site is on the amateur end and some may find that charming and others might want somethiing more professional but when it comes to the Tranny Foot Content well that speaks for itself. Overall I think Mallory is pretty sexy and even though I am not personally a big foot fetish fan I still enjoyed my time a few years ago looking at her videos, photos and enjoying her fun and unique personality.
Thanks from the Mallory's Feet Review