Join now
Andrea Nobili Shemales Review
83/100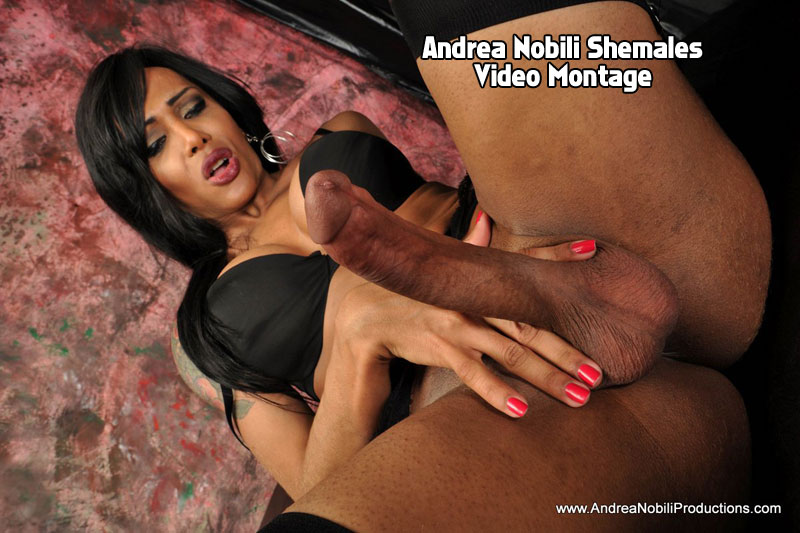 Giant Big Shemale Cocks Click Here
Video content
450+

25 Minutes

MP4,WMV

Yes
Photos from Andrea Nobili Shemales
Site introduction
Welcome to the Andrea Nobili Productions shemale review. The site has an odd name if you are not familiar with the company and the male actor who gets to screw these beautiful girls. Name aside this site is wicked if you are a fan of Brazlian and Italian shemales with huge cocks and now even some Amerian shemales have graced the membership area.
This site is all about sexy big dick tranny girls. You will find it hard to locate a girl on the site that doesn't have a big cock. In fact it is one of my personal favorite movie sites. They really enjoy focusing on the tgirl's pieces of beautiful cock art. Besides the big cock you will find amazing fucking scenes with girls and guys, a little bareback action on some of the movies, domination, submission, foot worship and pretty much anything you can think of. They continue to update each week with some of the best movies that this reviewer has ever seen, they really are a great site for video production as this company has been doing DVD content for years.
UPDATE: NOV. 2015 Andrea Nobili has been sold to Pinko Tgirls. The content is the same as well as the updates just a new site design. I will do a new review soon on Pinko Tgirls but for know just be aware that all links on this review will go to Pinko Tgirls.
The Videos
When I first downloaded a couple videos from inside the member's area the first thing that came to mind is WOW these movies are awesome! These films are of amazing quality and you can tell they are created out of love for these big dick transsexuals. I would have a very hard time finding problems with the video action. The shemales are always in sexy lingerie or roleplay outfits like nurse or domination.
Right now you can download the videos in MP4 format. There is a higher end quality movie and a smaller version for IPod type devices. They also have just introduced Streaming online player to a brand new member area! Another bonus is the movies are quite long. You will find it hard to find one under 20 minutes and many of them go past the 45 minute range. I would say the average is about 25-30 minutes of amazing hardcore action.

Right now the site has cloes to 500 Full movies that consist of but are not limited to the following types of content:
Big Shemale Cocks
Cumshots
Facials
Bareback
Shemales Fucking Guys
Guys Fucking Shemales
Shemales Fucking Girls
Shemale Lesbians
Shemale Domination
Foot Play
Toys
Roleplay - Movies Have Story
Outfits - Nurse, School, Police, Domination, Etc..
Brazilian and Italians Shemales
Backstage Footage
Starting to introduce American Shemales
If you like watching giant shemale cumshots these girls are packing some major juice, a lot of male talent getting their face soaked with shemale cum.
The Photos
When I first reviewed this site it was strictly a video site with the promise of photos in the future. Well that promise came true as they have included high quality images for the surfers to enjoy. The photos are usually a few shots of the girl alone and then into the hardcore action. You can view them online by clicking the thumbnails or download the set to your computer via zip file. There is a wide range of photos per set. Some sets have as little as 10 photos while others are over 100.
The photos they do have are pretty impressive as you can see above, they really do love to focus on the big cock and most of the girls have got them. Only one complaint is if you view the photos online by clicking the thumbnail I find the large photo a little small. I have to download the zip to get the actually size, not the end of the world just would like to see larger online photos added. You can also just view screenshots of the movies as well, personally I just watch the movie.
Pros
Long Movies 25-45 Minutes Each
Unique Content With Italian Models
Regular Updates
Bonus Site - Gender Girl Site
Good Price
Cons
Navigation Could Be Improved
No Full Mobile Version (Videos Only)
Photo Viewer Could Be Better
No Comments Or Forums
Limited Model Database Info
Special Features
Bonus To Gender Girl Porn Site
Calendar For Upcoming Videos
Summary
I think Andrea Nobili Shemales is a site to be checked out. The movies are absolutely amazing with high quality, great action and long run times. The site is perfect for the fan of Big Shemale Cocks as this site doesn't seem to even allow any small dick transsexuals in their movies. The recent additions such as photos, streaming movies and now a model index only help this site expand and grow into the future. This site has some of my favorite videos ever.
A nice selection of Italian Shemales that many have not seen before is an additional bonus. The Brazilian Transsexuals are hot as well but most are well known to the hardcore tranny fan. Saying that they are still gorgeous girls with massive dicks! Stop by the preview of the site and see what you think, I have a feeling you are going to feel right at home and so will your cock!
Take Care from the Andrea Nobili Productions Review!
Please Feel Free To Share Your Thoughts Or Questions Below.